"Bloodlust"
I wanted to paint what I had been avoiding, which was something human and with emotion. Adding the subtle fangs to the girl was a bit of an afterthought done near the end.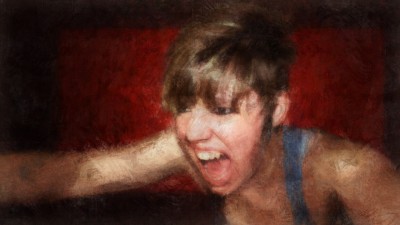 I am really happy with how I'm getting along with Photoshop CS5′s Mixer Brushes. I feel I am fine tuning them more with each new painting and getting them and myself closer to where I want to be with the look and feel of the final result. The overall style I like and am aiming for is one of looseness, one in which you see hopefully see expressiveness in clearly seeing the brush strokes.
This is all serving me well in stepping back from the perfect exactness of 3D, which I love to do and always will but this more raw looking 2D painting, feels great to be able to make.