"Community" – Arise, Chang Army!
In Chang We Trust
*NOTICE – If I did happen to guess WRONG at what is at the bottom of this poster, I WILL be adding a corrected version.

Chang Poster available in;
Wallpaper sized: (104kb) (2560×1600) – Download Here!  -  Also, a 16:9 ratio wallpaper: (62kb) (1920×1080) – Download Here!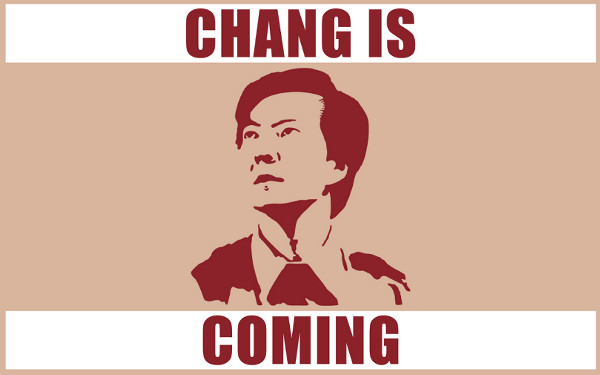 Gloriously full-sized poster: (714kb) (7,200×10,800, which is 24″x36″) – Download Here!
This one is so Chan-tasticly huge it probably won't load into most browser windows.
I suggest right-clicking the link and choosing "Save Link As"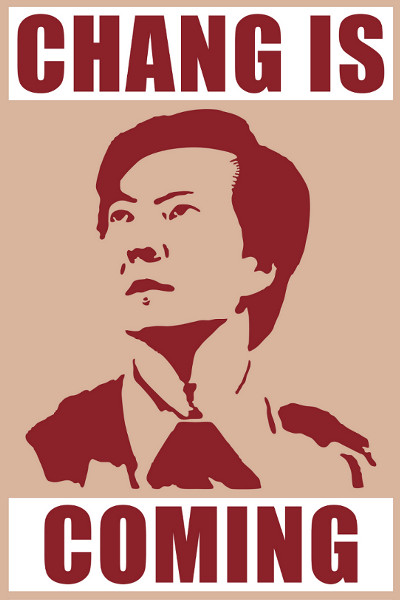 Info;
Based upon the Chan-tastic Chan poster being unfurled in the "Community Returns!" trailer.
Watch the video here, Chang poster at the 0:30 second mark)
Obviously, I'm just guessing at what's actually at the bottom of that poster.
Come March 15th, the full Chang shall be revealed!
All images are in png format, created in Photoshop CS5.
All rights reserved to: NBC, Sony Pictures Television, Universal Media Studios, Russo Brothers,
Harmonius Claptrap, Krasnoff Foster Productions, the eternaly Chan-tastic Ken Jeong and
anyone else that would like to dogpile in on some of this copyright action.
"To know your Chang, you must become your Chang."
– The Art of Chang
Kirk
kirk@kirkdunne.com
*This page is in fandom spirit of the AMAZING NBC comedy Television show "Community".
If you've never seen it, do so NOW and level up your coolness by a roll of at least +10.
*So, realize this is all in fun and therefore I am not a communist.
(Sorry commies)
*I am also not a rabid celebrity stalker of Ken Jeong.
(Sorry Ken, you are awesome…but at this moment in my life, you're just not "go to jail" awesome…as I am still paying off my plasma flatscreen)